The Blackout

EZ

TM Difference!
Money Back Guarantee
100% Secure Ordering
Fast Shipping
Privacy Valued
Our Story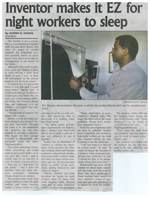 It all started several years ago when I was working as a night delivery driver. I had a really tough time getting good sleep during the day and was always tired because of it. It's amazing that I didn't kill myself or anyone else out there on the road.
I discovered that I slept better when I was able to get to bed before the sun was up. I would rush through my route determined to beat the morning sun. The discovery also started my quest to find the best way to darken my bedroom.
I covered the windows with black plastic bags, cardboard, blankets and all sorts of blackout curtains, liners, shades and blinds without much success. Because I was convinced that lots of other people must also be struggling with the same problem, I set out to invent an affordable, easy to use room darkening window treatment.
Tim Stanley