Introducing the all new Blackout EZTM RV Window Cover!

Designed exclusively for RV windows with radius corners, the Blackout EZTM RV Window Cover will -
Give you total privacy
Keep you cooler in the summer by reflecting the sun
Keep you warmer in the winter by insulating your windows
Keep your interior from fading during storage
Note - custom covers ship complete with Velcro tape. Due to the custom size, we unfortunately do not offer any returns or guarantees on the custom made products.
Ships in 3-5 business days.
Tim,

Here are two pics that show how well your product has worked for me. I use your Blackout EZ custom shades on my camper when I'm out doing astrophotography.
One pic show how my telescope, cameras and other gear are set up in daylight on the astronomy field at Cherry Springs State Park in the Susquehannock State Forest in Pennsylvania. Usually, I operate the telescope and camera remotely from inside my camper at night.
The second pic is one my buddy took this past June of a STEVE aurora over my camper just before I shut the door. I had lights, computers and movies running inside at the time he snapped the photo. You can also see how the BlackoutEZ shades have all the light perfectly sealed inside. No light leak complaints from my fellow astronomers!
Thanks again!

Leon
Branford, CT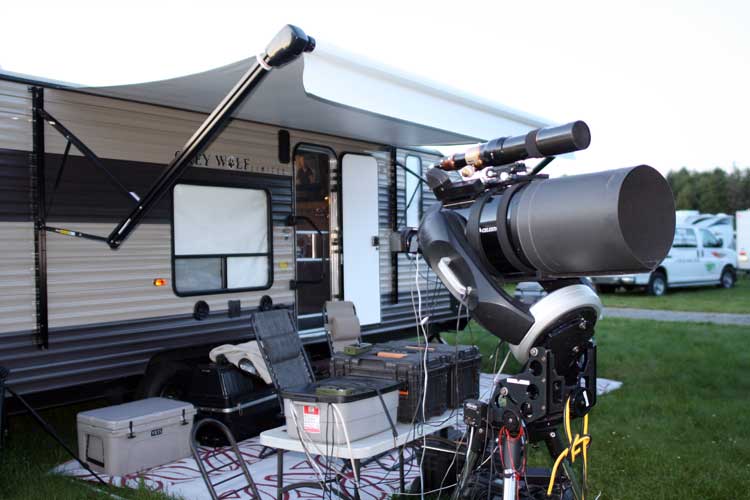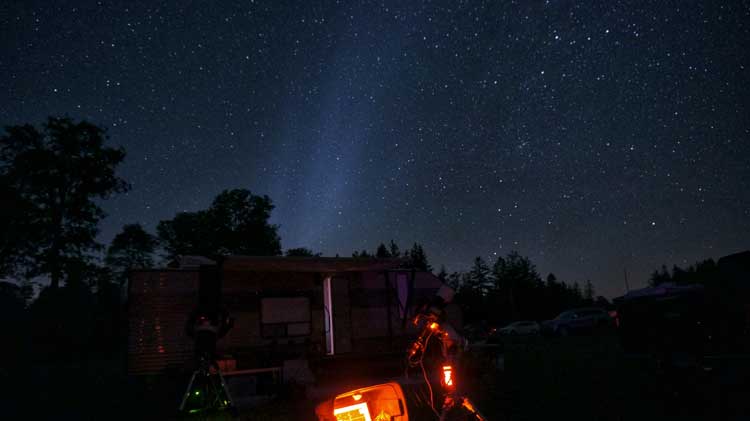 "I purchased Blackout EZTM window coverings in the Summer of 2013 for my travel trailer. I discovered that without window coverings at night, my trailer was comparable to a fish tank. My neighbors could see in through every window if I had lights on at night. To remedy my lack of privacy, I bought nine Blackout EZ window covers and installed them easily in one afternoon. They are wonderful! I had immediate privacy! Another benefit is an additional insulating factor in the windows. The covers block out the hot sun and also the cold air in the Winters here in Reno, Nevada. They are easily removed to clean and install devices like air conditioners for seasonal use. I highly recommend this product!"
- Bradley Nottingham
The
Blackout

EZ

TM RV Window Cover
is
available in custom sizes only.
To order download and print the template below to find the radius of your windows.


Radius Measurement Template
People kept calling and emailing looking for blackout covers for their RV. So we started making a few by request. Then the few request became many so we added Blackout EZTM RV Window Covers to the website. The excitement continued to grow so I decided to purchase a RV to see what the fuss was all about and to speak intelligently when asked questions about the product.
Leaving the dealer with the trailer in tow, after my hour long training session, I don't think I took one breath on the forty five minute drive home as the trailer swayed back and forth. I was so overwhelmed with the whole idea of the weight distribution hitch, trailer set-up, the holding tanks and not to mention the sewer dumping, the trailer sat in place for ten months before I mustered up enough courage to take my first trip.
Oh Boy! Now I know what all the fuss is about. My wife and I Love RVing! At one point, we went on a trip eight weekends in a row. It's fun and very relaxing traveling to new places and meeting new people. It's also challenging at times when things don't workout as planned. Join us as we travel to new places, learn about RVing and face new challenges in our vlog RV'n with Tim.